Bolo Tie with Handcrafted Oni Charm(Female) in SAGA pref.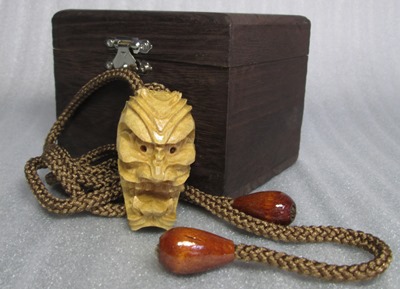 US$200.00-

This bolo tie has a handcrafted small wooden charm of ONI (Japanese demon or ogre).
It is a miniature of the traditional mask carved in wood, which is called "Furyumen (浮立面)."


---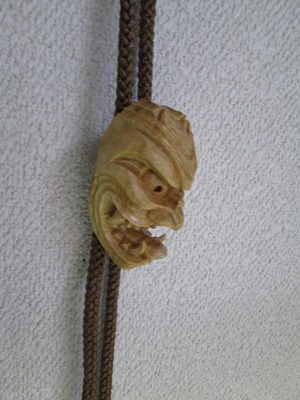 The mask has been, and will be, used in the traditional performing arts in Saga prefecture in Japan to pray for rain and a good harvest.
We can see the wishes by farmers in the old days to contain ONI and protect their crops from the evil spirits.
---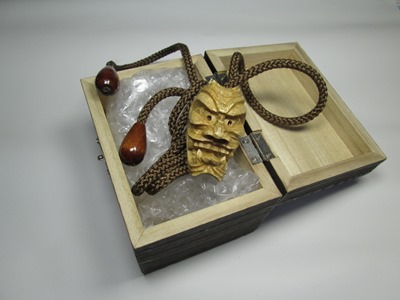 We have also charms of a male ONI (with long horns) available.

---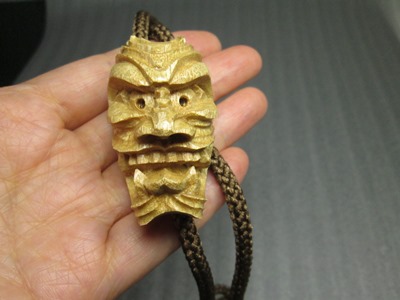 Notifications




* This item is handcrafted, so the color, shape, size and weight of each product can be slightly different.



* We are authorized to sell this merchandise by the manufacturer in Japan. This is why we are proud to provide our merchandise in completely new and good condition.
---
Details
Size
Female ONI: 6.5 x 3 x 3.5 cm
Loop: approx 108cm

Material
Camphor tree
Remark
Please see the Notification
Bland
Sugicyou factory
---