Set of Mt. Fuji "SAKE" CUPS handmade in Tokyo,Japan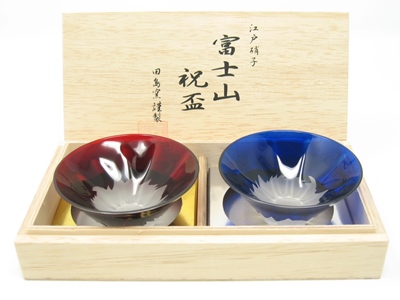 US$115.00-
This is a pair of red and blue Mt. Fuji-shaped small cups, especially recommended for enjoying Japanese alcohol "sake".

Mt. Fuji, the highest and most famous mountain in Japan, is often regarded as a very lucky and fortunate icon.
We hope these cups bring a lot of happiness to you.
---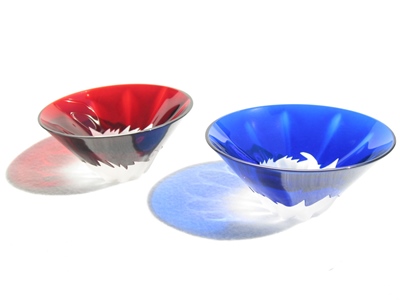 These beautiful cups are handmade by craftspeople in Tokyo, Japan with the traditional skills of glasswork, which lasts since Edo period for more than 400 years.

The red and blue glass is superposed on clear glass respectively, and the bottom of each cup is sandblasted.


Click


---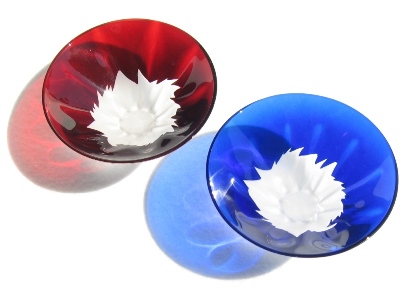 If you turn the cups upside down, the clear bottoms seem like snow on the top of Mt. Fuji in the refreshing blue air, and in beautifully burning red sunrise and sunset.
We hope you will enjoy drinking and imaging the most beautiful mountain in Japan with these cups.
---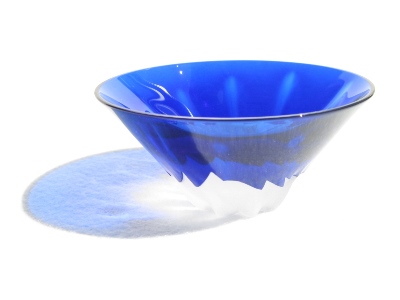 Handling instraction

1. DO NOT expose the cups to drastic temperature change, in order to prevent glass from breaking.

2. After use, please wash the cups with a soft sponge or cloth with dishwashing liquid. To prevent scratches, please avoid using hard scrubbing brushes.
3. DO NOT heat the cups on an open fire, in microwaves or ovens.
4. DO NOT wash them in a dish washer.
---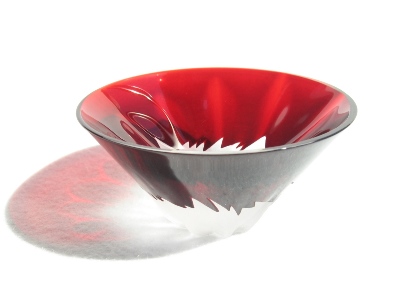 Notifications

* Having been handcrafted, the color, shape, size and weight of each product can be slightly different.


* We are authorized to sell this merchandise by the supplier in Japan who planned the production of this item, which is manufactured by one of the famous Japanese glass-factories. This is why we are proud to provide our merchandise in completely new and good condition.
---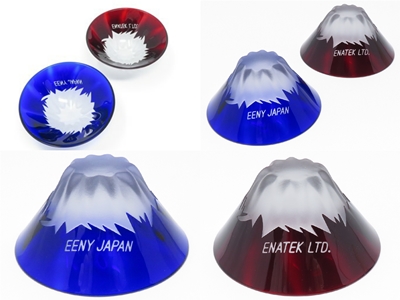 We can arrange Name Engraving Service, please ask by e-mail !

Please note
*Additional charges will apply.
*5sets or 10sets will be reasonable.
---
Details
| | |
| --- | --- |
| Size | The lip of the cup: approx 8cm Height: approx 4cm /each cup |
| Material | Glass |
| Weight | Approx 90g /each cup |
| Remark | Please see the handling instraction |
| Bland | Mars Planning Co. |
---