Reversible Higher-quality Gold Fan (Wind & Thunder Gods / Plants)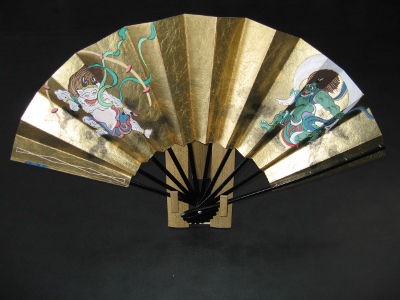 US$185.00-
This foldable fan is bigger than the ordinary handheld fans, so it is highly recommended for home decor.
Also it can be used in the Japanese traditional dances. The standard length of the fans for the dances is usually about 29 cm (11.4 inch), and a brass weight in the pivot makes it easier for the dancers to throw and spin the fan.



Click

---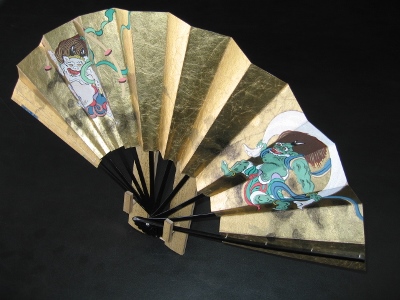 The grade and quality of the gold leaf used for this fan are higher as it is made in a special process that is not required for the ordinary gold leaf.
Craftspeople crumple the leaf soft and then stretch the leaf to make use of the crumples as patterns.


---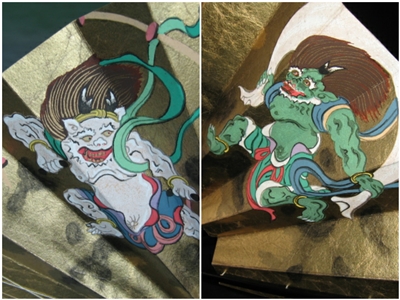 Wind God and Thunder God are on the front, and summer and autumn plants are on the backside.
These famous Japanese drawings were created several hundred years ago, and they have been loved not only inside Japan but also in many foreign countries.

---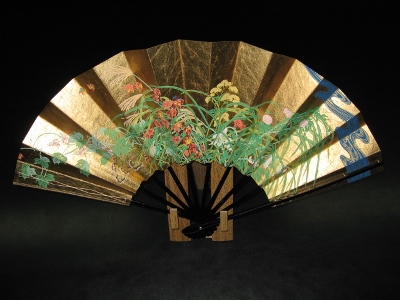 A display stand made of bamboo comes with the fan.
We hope you will enjoy this fantastic product!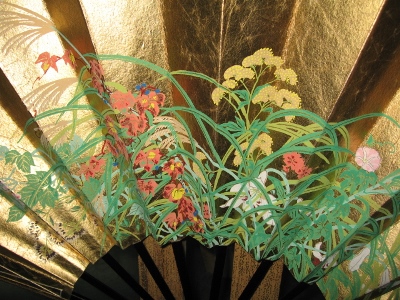 Notes
* In Tokyo the whole processes of making fans are done by a single craftsperson. Meanwhile in Kyoto each process is done separately by different craftspeople. This product is made in Tokyo in the former way.

* Products of this manufacturer, Shinkyoseido, have been highly evaluated by a lot of customers not only in Japan but also in overseas. At Tokyo Olympic Games in 1964, their foldable fans were adopted as an official gift.

* We are authorized to sell these items by the manufacturer in Japan. This is why we are proud to provide our merchandise in completely new and good condition.

---
---
Details
Size
approx (W)29 x (H)19.5 cm

Material
Material of the Fan: Bamboo, Thin Japanese paper "Washi"
Display stand: Bamboo
Remark
Please see the Note
Bland
Shinkyoseido Co.,LTD
---