Real Mt.Fuji Shaped Glasswork (Handmade in Tokyo)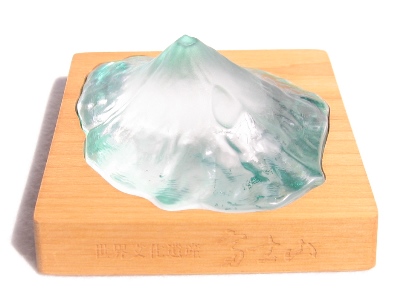 US$70.00-
Have you ever been to Mt. Fuji?
This pen stand shows its beauty very well!

Mt. Fuji is the most famous and popular mountain in Japan, and a lot of people enjoy visiting there from all over the world.
With this item you can have the magnificent mountain in your hand and touch the beauty of the delicate Japanese glasswork.

The shape of this small mountain shows the actual geographical features of Mt. Fuji based on the data sourced from the digital elevation mode (50m mesh) published by Geospatial Information Authority of Japan (GSI) under their consent.
---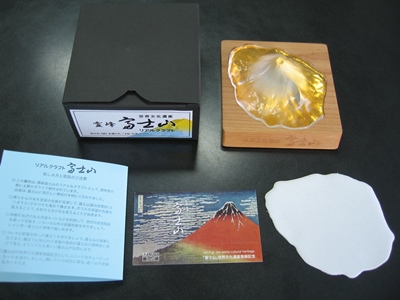 The glass of the top of the mountain is frosted, which shines gathering lights around.
If you seat a piece of colored paper under this glass craft, you can enjoy beautifully shiny Mt. Fuji in various colors.
A piece of gold paper accompanies with the product, but you can cut whatever papers you like with the enclosed paper pattern.

And the letters described in the wooden pedestal show "World Cultural Heritage Mt. Fuji" in Japanese.
For orders for more than 10 pcs we can change it to whatever words you like.

We hope you will enjoy the beauty of this Japanese glasswork!
---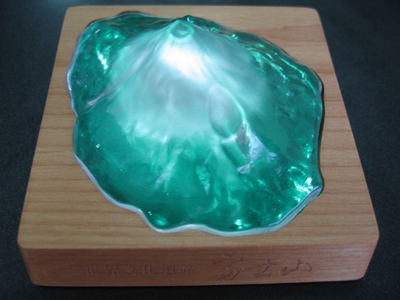 Item included in this marchandise and each quantity.

1)

Real Mt. Fuji shaped glass craft: 1




2) Wooden pedestal: 1




3) Paper pattern of Mt. Fuji: 1


4) Gold paper to seat under Mt. Fuji: 1

We also have "Pen Stand Mt.Fuji" is available.




---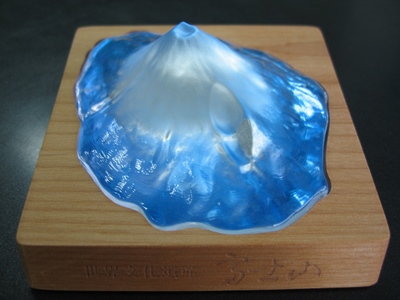 Warning

DO NOT put this item in direct sunlight to prevent the glass from causing a fire.

Notifications


* We are authorized to sell this merchandise by the supplier in Japan who planned the production of this item, which is manufactured by one of the famous Japanese glass-factories. This is why we are proud to provide our merchandise in completely new and good condition.
---
Details
Size
Mt.Fuji: Height approx 4cm
Base Size : approx 10 x 10cm Height: approx 1.5cm

Material
Mt.Fiji: Glass Base: Tree
Weight
Approx 280g
Remark
Please see the Warning & Notification
Bland
Mars Planning Co.
---