Chopstick Gift Set "Prosperous Mt.Fuji" (Handmade in Fukui)
US$85.00-
This special gift boxes contains 2 pairs of chopsticks and 2 chopstick rests with a Japanese lucky symbol: Prosperous Mt.Fuji. (You can also choose Fortunate White Rabbit.)
Generally the longer chopsticks (approx. 9.3 inch) are suitable for men, and the shorter ones (approx. 8.5 inch) are for women.

Mt. Fuji is the highest mountain in Japan, and it has been loved and respected by Japanese people since ancient times. The shape of the mountain is appreciated as it expresses exactly the word "Su-e Hirogari" (末広がり), which means widening towards the end. The broadening shape gives an impression of increasing success, so it is often seen as an image of prosperity.

---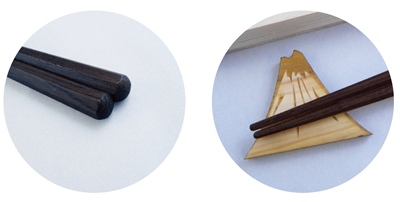 The products are contained in a special box made of paulownia wood. This high-quality box makes the gift set even more luxurious and sophisticated.

Last but not least, the tips of the chopsticks are coated with the 100% Pure Natural Lacquer. No synthetic chemicals are used for the coating of the chopstick tips.
This fact proves the very serious attitude of the manufacturer to contribute to the high safety for the users, following their principle that chopsticks, whose tips are put into the mouth, should be regarded as "food" and their safety must be guaranteed just like foods.

We bet everyone will love these items!

---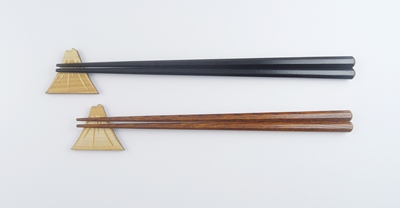 Notification

* Please contact us BEFORE PLACING AN ORDER to confirm delivery time. Usually we can ship your order within 2 weeks of confirming your payment, but in case the items are out of stock, it can take max. 3 months to have your order manufactured.

* We are authorized to sell this merchandise by the manufacturer in Japan. This is why we are proud to provide our merchandise in completely new and good condition.


Details
Size
Chopsticks Lenght: approx 23.5cm and 21.5cm

Material
Chopstick Material: Natural Wood coated with the 100% Pure Natural Lacquer
Chopstick Rest Material: Natural Wood coated with Beeswax
Remark
Please see the handling instraction
Bland
Hyozaemon
---