Handmade Iga-yaki Sake Cup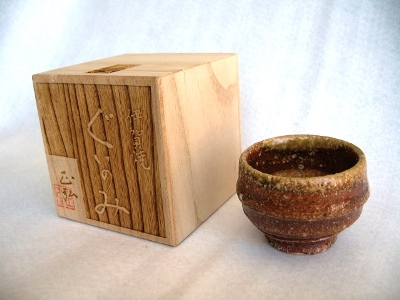 US$170.00-
Iga-yaki (Iga ware) is a traditional style of Japanese pottery in Mie prefecture.
The origin of the history of Iga-yaki is believed to be in the 8th century when farmers in that area started to create various kinds of wares for daily use.
The clay containing lignite (brown coal), which is composed of weathered granite accumulated at the bottom of the local lake about 4 million years ago, has contributed to the development of Iga-yaki.
The most outstanding characteristics of these wares are the burn marks and the reddish and greenish hue in which the clay changes in a kiln at very high temperatures.

---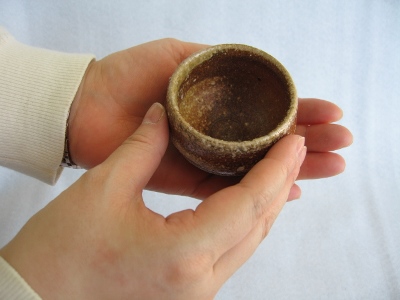 This sake cup is handcrafted by a highly skilled potter whose kiln is located in Tochigi prefecture (not in Mie prefecture, the original location of Iga-yaki).
He has mastered the traditional technique of Iga-yaki, and he keeps making many attractive products.


---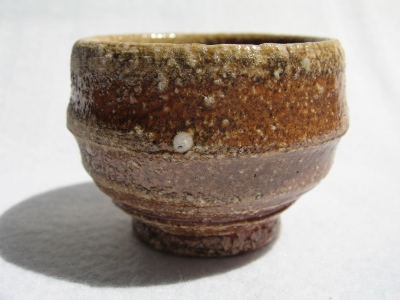 This cup was fired in a kiln at high temperatures over 1300 degree centigrade.
The heat turns firewood (Japanese red pines used as the fuel) into ashes, and the ashes melt and coat all over the cup. This is called "natural glaze."

Compared to the ceramic glaze that covers pottery with glossy material to form various surface finishes, the natural glaze can preserve the original texture of the material (clay). But it does not protect the material from water, so the cup remains permeable and the poured liquids can ooze through the cup.
This is not a defect but the characteristic of the naturally glazed product.

---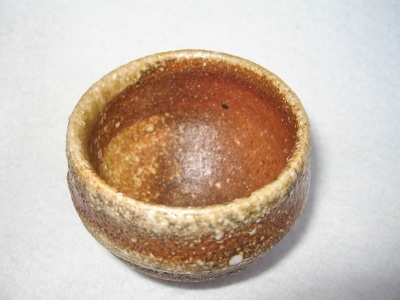 If you would like to make this cup as impervious as possible, please try the following process.
1. Pour water into a pot as much as it covers the height of the cup.
2. Put about one teaspoon of flour or potato starch into the water.
3. Put the cup into the pot.
4. Boil the cup for about 30 minutes.
5. Turn off the heat and wait until the boiled water naturally cools down.
6. Rinse the cup in water and dry it well.
Then the cup might be a little more waterproof.

Enjoy the traditional beauty of Iga-yaki !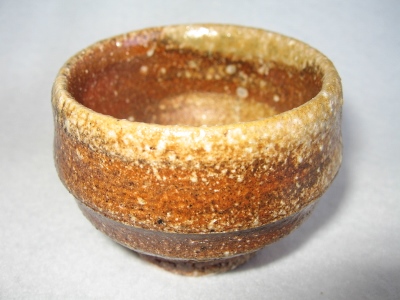 <Notifications>
* This sake cup is handcrafted, so the color, shape, size and weight of each product can be slightly different.

* We are authorized to sell this merchandise by the supplier in Japan who manufactures the wooden box to contain this sake cup and takes care of the sales of the Iga-yaki arts produced by a workshop located in Tochigi prefecture. This is why we are proud to provide our merchandise in completely new and good condition.

---
Details
Size
Sorry, Please see the above pictures

Material
Sake Cup: Pottery
Package: Wooden Box
Remark
Please see the handling instraction
Bland
Workstation Co., Ltd., Koubou Rihachi
---