Set of Cutlery Rests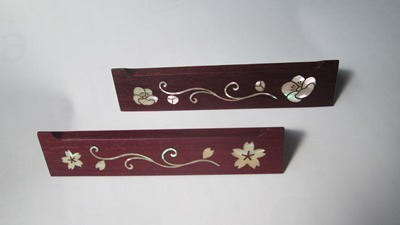 US$83.00-
Take a look at this beautiful inlay work by skilled Japanese craftspeople!
This product was all handcrafted with the traditional and originally developed techniques, inlaying mother-of-pearl into the wooden rest made of Purple Heart tree.
---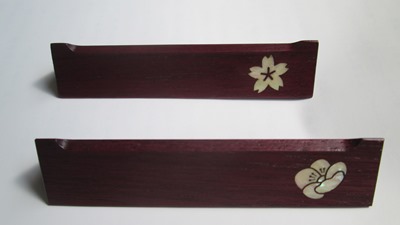 We can provide "cherry blossoms" and "Japanese plum blossoms",separately.

They are beautifully expressed by the outstanding Japanese traditional technique of inlaid work using shell.

The craftspeople carved the surface of wood very delicately into the shapes of the blossoms, and then they inlaid shell into the wood.

We hope you will enjoy using this product!

---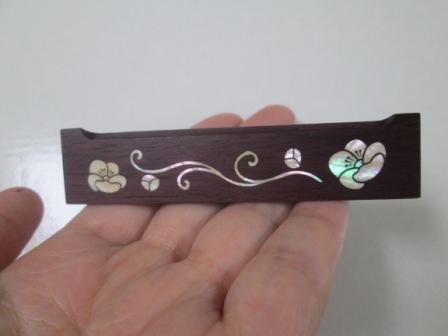 Handling Instraction

* Please avoid dipping this item in water for a long time. It may cause stains, flaking, deformation and/or other kinds of defects.

* Please avoid washing/drying it in a dish washer/dryer.

---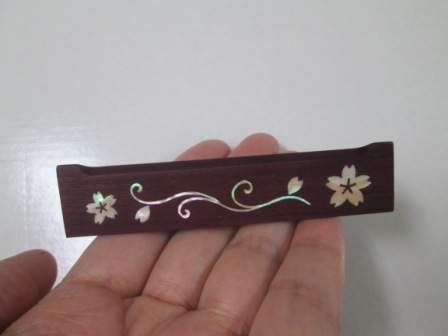 Notification

* The actual colors of the merchandise can be slightly different from the ones displayed on your computer screen.

* This product is handcrafted, so the color, shape, size and weight of each product can be slightly different.

* We are authorized to sell this merchandise by a wholesaler in Japan, who is contributing to the further development of traditional crafts produced in Iwate. We are proud to provide our merchandise in completely new and good condition.
---
Details
| | |
| --- | --- |
| Size | Lenght: approx 1.8cm Width: approx 9cm Height: approx 1.8cm |
| Material | Purple Heart tree & Ear Shell |
| Remark | Please see the handling instraction |
| Bland | Yumekobo Inc. |
---